Fig Tree Quilts: Fresh Vintage Sewing - CLOSEOUT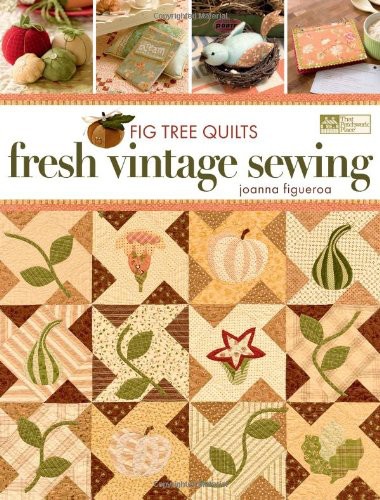 9781564778949
<!OPTIONAL>
<!BUYCODE>
Joanna Figueroa
Bring fresh vintage style to your home with these five beautiful quilts and a whole host of other projects - from adorable pin cushions and charming aprons to pillows and journal covers. All of the projects in "Fresh Vintage Sewing" come with step-by-step instructions - accompanied by full-colour photography - and feature "Fig Tree Quilts"' signature palette of warm, inviting tones. Discover the warm and inviting tones of "Fig Tree Quilts" with these delightful projects.
Review
This 112 page book is a sewing book that I know you will enjoy. On the crest of the 'new wave' of sewing, Joanna imprints her individual style on numerous items for the home. Make quilts, table settings, aprons, pin cushions and a lot more. Discover how to personalize your home with these beautiful projects. Clear instructions, including the basics of sewing and applique are included. There are also large templates for the quilts and the instructions are clear and easy to follow. I enjoyed this book very much. --From Karen Platt, book reviewer
This book grabbed me as soon as I saw the cover, and then kept me hooked all the way through! I usually see "sewing" in the title and skip it because I assume that it will be like more crafty than quilty. One look at the cover of Fresh Vintage Sewing and I had a sneaking suspicion that this book would break that stereotype for me. I saw the adorable pincushions and beautiful quilt on the cover and I was pulled in for more!
The contents are broken up into beautiful vignettes, such as Front Porch Welcome and Kitchen Comforts, with beautiful pictures to give you an idea of the style of that section. There is also a wonderful introduction by Joanna that touches on why many of us love fabric and her explanation of what fresh vintage means to her.
I was immediately drawn to the many wonderful and creative pincushions she had in the book, from garden fruits and vegetables to birds and their eggs. There are also several gorgeous quilts, cute aprons, kitchen accessories, table settings, cushions, and bedroom and desk accessories. There are so many unique little touches to use fabric in beautiful ways all over your home.
If I get started now, I could make several of the pincushions and sachets throughout the year and be ready for gift giving next Christmas! What quilter doesn't love a handmade gift? I also think that I need some cute summery placemats, and the ones in this book fit the bill. They also have the cute pocket that will hold the silverware in place. --connectingthreads.com
retail $28.99 - extra discount